PROUDLY AUSTRALIAN OWNED. LOCALLY DESIGNED, LOCALLY SUPPORTED.
Skip to content
"Good afternoon, we would like to thank Robyn at Platinum for her wonderful help and professionalism when dealing with your company over the past few weeks. We would also like to say how great your Platinum Appliances are, we use them for a lot of our kitchen jobs and even have the products installed in our own home and think they are great quality and work very well. Thank you again for your great service."
key features
900 Slide-out Rangehood
White Powdercoated body
Stainless Steel Front Rail
LED Lights
Sliding-Switch Controls
3 Power Levels
440m3/h Extraction
Ducted or Recirculated* 
* optional carbon filters sold separately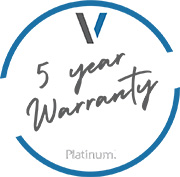 inclusions
40mm and 80mm Stainless steel front rails
Ducting adaptor with non return flaps
specifications
General

Dimensions: W898 x D280 x H176 mm
Front rail height: 80mm & 40mm
Front rail thickness: 20mm
Extraction rate: 440m3/h (twin motor)
Fascia type: Stainless Steel
Body colour: White
Extraction type: Top Ducted or Recirculated
Ducting position: Centre
Light location: Rear
Switch type: Sliding
Speed settings: 3
Noise level (high speed): 59dB
Noise level (low speed): 49dB
Ducting outlet diameter: 125mm
Non-return Flaps: Yes
Filter type: 2 x Aluminium panel
Filter Cleaning: Dishwasher Safe

Electrical

Supply voltage: 240V~
Supply frequency: 50Hz
Motor: Twin motors - 2 x 100W
Connection: 10A Plug
Cable length: 1500mm

Accessories

Aluminium Panel Filter: 2399000.903
Carbon Cotton Panel Filter (set): 2399000.902
Optional Round Carbon Filter Set: 0103521

Warranty

Warranty: 5 Years

For full details please see our warranty terms and conditons.
resources
''